Disclosure: This post may contain affiliate links, meaning I get a commission if you decide to make a purchase through my links, at no cost to you. I only recommend products I use myself or stand behind and would recommend to my besties!
Does anyone else have sweet, summer memories that include orange creamsicles? Maybe it's just me and my sweet tooth but I LOVE that creamy orange flavor! And why did they always seem better from the ice cream truck? Hmm…I'm going to have to chase one down soon. And when I say chase, it's because the ice cream truck in our neighborhood goes like 50 mph. They sure don't seem to want to make sales at that speed. Anyway, back to this amazing flavor! I'd like to shake the hand of whoever thought of this delicious combo. It only made sense to me to make this work in a cookie! So today I'm excited to share this recipe for orange creamsicle sugar cookies!
If you're familiar with my blog, you know I love no-chill, no-spread and easy to roll out, which is exactly what this is too! The secret ingredient is LorAnn's Orange Cream Super Strength Flavor which gives just the right flavor to flashback to those summer days! Now I will say, I went light with the flavoring, but you can certainly add more if you want a stronger orange cream flavor. Note, that I linked to a 1 oz bottle of this flavor. However, if you like to bake with fun flavors, THIS is the best way to get a lot of different super strength flavors for a great price!
I paired this dreamy cookie with my regular vanilla go-to Royal Icing recipe and it's delish. But you could certainly get creative with a stronger vanilla to bring out the cream flavor. OR, they are also crazy-good naked (the cookies, not you)!
I hope you enjoy these delicious orange creamsicle sugar cookies as much as our family and friends have! We're excited to start offering these to our customers very soon! Next time your kid misses the ice cream truck (maybe yours speeds too), whip up some of these and I promise, they'll be happy!
Orange Creamsicle Cutout Sugar cookie Recipe
Orange Creamsicle Sugar Cookies for Summer
These Orange Creamsicle Sugar Cookies are so delicious and bring you back to those summer days!
Ingredients
1

cup

Unsalted Butter

Room Temperature

1

cup

Granulated White Sugar

1.5

tsp

Vanilla Extract

1

Egg

Room Temperature

2

tsp

Baking Powder

1/2

tsp

Salt

3

cups

All-Purpose Flour

1/2

tsp

Orange Cream Super Strength Flavor

LorAnn's brand
Instructions
Preheat oven to 350 degrees F.

I use parchment paper on my cookies sheets and reuse them for all my batches that day.

In your mixer bowl (or large bowl with hand-mixer) cream butter and sugar until smooth, at least 1 minute

Beat in vanilla extract and egg

In a separate bowl, combine baking powder, salt and flour. Add to wet ingredient mixing bowl a little at a time.

Mix until thoroughly blended

Add 1/2 tsp orange cream super strength flavor and blend. This amount will give a light flavor. Add more if you desire a stronger flavor.

Chilling the dough is not necessary! I have tried many different ways of rolling out dough and always come back to the old-fashioned way; a sheet of wax paper that has been floured.

I usually divide the dough into 3 chunks and roll out each onto a floured surface and cut. In my experience, this dough works best for cookies at 1/4" thick. I use my Joseph Joseph rolling pin which does the measuring for me – genius!

Bake at 350 for 7-8 minutes, depending on size of cookie. I also suggest baking similar-sized cookies together.

Cool cookies on cookie sheet until firm enough to transfer to colling rack.
Notes
Consistency Notes:
The dough should be pulling away from the sides of the mixer. If dough seems too crumbly or dry, mix for another minute.
If dough seems to sticky after blending, add small amounts of flour while rolling out the dough on a floured surface.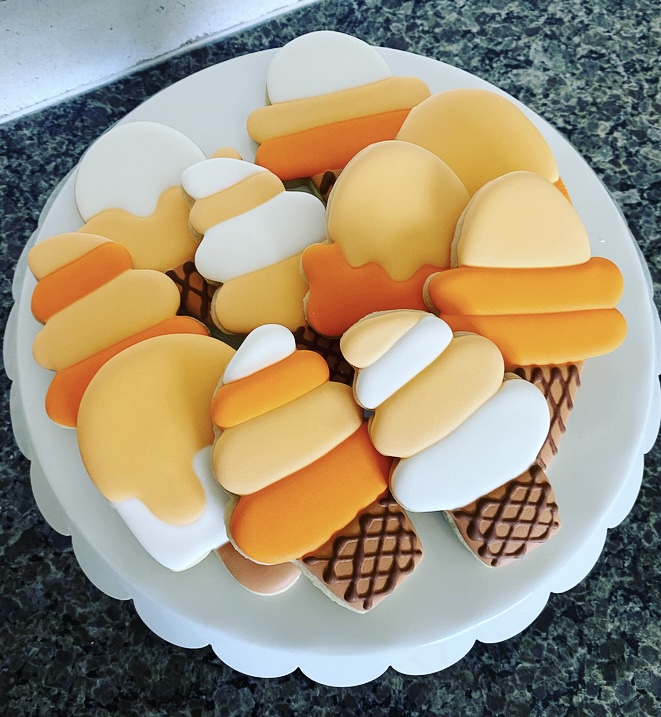 If you found this recipe post helpful, make sure to subscribe so you don't miss out on future cut out cookie recipes or drop cookie recipes! Happy Baking, Bestie!
Subscribe
Sign up to receive my newsletter!